KENYA – One of the largest flour milling companies in Kenya, Capwell Industries Ltd, bagged the New Product of the Year Award for their innovative product, Soko Nutrigo Whole Grain Maize Meal, at the just concluded Africa Food Awards 2023, held in Nairobi, Kenya. 
Soko Nutrigo joined Capwell's stable of maize meals comprising the Soko Maize meal and the premium sifted maize meal, Amaize, in 2022, appealing to a lot of its consumers and attracting recognition at the Africa Food Awards.
This innovative product, Soko Nutrigo, is a 100% wholegrain maize flour, fortified with vitamins and minerals to deliver top-notch taste and nutrient density.
"Soko Nutrigo was inspired by the shift in consumer behavior seeking products that deliver better nutrition," highlighted the company last year following its launch.
To maintain quality and guarantee the freshness of the product, the flour is foil-packed, extending its shelf life to 6 months. It comes in 1kg and 2kg packs and is available in all leading retail outlets in the country.
Speaking during the presentation of the award ceremony at Safaripark Hetel, Charity Mureverwi, former head of research and development at Capwell Industries, remarked that "The World, Africa, and Kenya are facing the double burden of more nutrition; that is obesity and undernutrition." 
"The way that the world can solve this is through fortified whole-grain foods," she explained. 
According to Charity, most millers take the best of grain constituents and use them to produce animal feed, leaving maize meals meant for human consumption devoid of nutrients. 
"We decided to make a whole-grain maize flour which has all the maize bran and germ and is also fortified," Charity added, explaining that the result is that you feel full faster without compromising the nutrients available in the maize grain.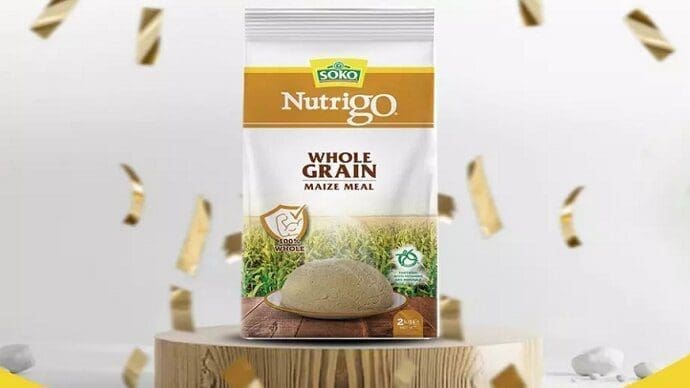 Wholegrain maize flour promotes sustainable food systems because there is no wastage of food. Refining results in losses of up to 40% of the total harvest, and shifting to wholegrain maize means less arable land, water, fertilizers are required to feed a certain population size.
At the awards ceremony, Sanjay Yenugwar, the head of production at Capwell Industries, congratulated Charity and her team for championing Soko Nutrigo, and provided that the company has created an appropriate environment for research and innovation and that they would be coming up with many more value-added products that allow Kenyans to "eat right and eat healthy". 
"Thank you to our esteemed customers for continuously walking the journey with us and trusting our brand. Here's to more awards in the future," the company shared on its Instagram page in celebration of the award.
For all the latest grains industry news from Africa, the Middle East and the World, subscribe to our weekly NEWSLETTERS, follow us on LinkedIn and subscribe to our YouTube channel